BEA is committed to understanding and satisfying applicable requirements. BEA Employee Values and Corporate Culture are Supported through the following Actions:
We Provide Superior Product Quality and Outstanding Customer Service
We Maintain Positive and Professional Communication for our Internal and External Customers
We are Empowered and Encouraged to Improve the Business
We Focus on Employee Safety and Satisfaction
BEA's Quality Management System has been certified to the standard ISO 9001:2015 as of July 2021. Click below to see our ISO Certification.
---
IMPORTANT RECALL NOTICE – DELAYED EGRESS MAGLOCK
October 14, 2021
BEA has just received a notice of a recall on our DELAYED EGRESS MAGLOCK (10MAGDE1) from the manufacturer, in which customers should immediately stop using the affected locks. Click below to view the manufacturer's notice.
The units in question were manufactured between August 2019 and March 2021. To verify your stock is part of the recalled units, review the date stamp window.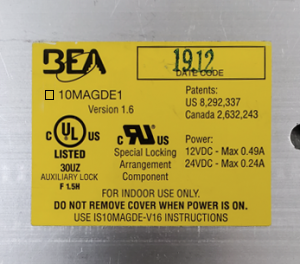 Please verify that the lock in question is part of the recall notice by checking that the date code is between 1908 and 2103 and that the box next to the product part number is NOT filled in, as shown above. A product that DOES have this box filled in has firmware that has been updated to address the performance concern.
Per the manufacturer's notice, BEA advises customers to contact the manufacturer.
Due to supply chain issues, the manufacturer is unable to provide BEA with replacement units in a timely fashion. Please reach out to dormakaba directly to coordinate onsite technical support for any affected units.
Contact dormakaba via email: [email protected]
It is requested that your email provide the following information per site if multiple sites are affected:
Company
Contact
Full Address
Phone
Mobile
Email
Product Type: DE8310 or DE8310S
Number of units to be programmed
Indicate if units are currently failing: Y/N
We apologize for any inconvenience this may cause, and we are here to support you. Please contact your BEA sales representative directly with any questions.