LASER-Based Detection Curtains Simplify Safety on Full-Energy Swing Doors
BEA Division – Pedestrian Sensing Solutions
Industry Market – Food & Beverage Facility
BEA Customer – Automatic Door Group
BEA Product(s) – LZR®-FLATSCAN SW; stand-alone, door mounted safety sensor for swing doors
INTRODUCTION
With over 45 years of experience, Automatic Door Group installs and services automatic pedestrian doors in the midwest area. The expertise of their technicians provides insight to solve frequent challenges related to full-energy swing doors.
THE CHALLENGE
Prevalent in many buildings, a narrow corridor in a meatpacking facility contained a pair of full-energy swing doors using microwave activation and active infrared for safety. Adhering to ANSI/BHMA A156.10, guide rails are on the swing side (safety zone) of the doors. Guide rails offer additional safety for pedestrians or equipment by controlling traffic flow, thus reducing the chance of being struck while the door is opening. In addition to guide rails, a full-energy door activated by a motion sensor is also required to have two forms of safety.
With an average of 2,000 people walking through the corridor daily, the original installation regularly experienced false detections. During the opening cycle, the active infrared sensor detected the guide rails and caused the doors to stall. The constant interruption caused operator and hardware overuse, traffic-flow disruptions and safety challenges.
THE SOLUTION
Since the active infrared safety sensors kept seeing the guide rails and causing the doors to stall, the team at Automatic Door Group looked for different technology. They knew LASER-based technology provided the tolerance and precision needed and swayed the facility manager to try LZR-FLATSCAN SW.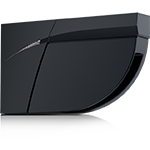 During setup, the LZR-FLATSCAN SW sensors were configured to reopen on the approach side and to stop on the swing side. After learning the environment, including the guide rails and adjacent walls, LZR-FLATSCAN SW can recognize oncoming pedestrians or objects versus the guide rails. The distinction between the two allows the doors to function as intended.


THE RESULTS
Automatic Door Group has not been asked to provide service since the installation of LZR-FLATSCAN SW.